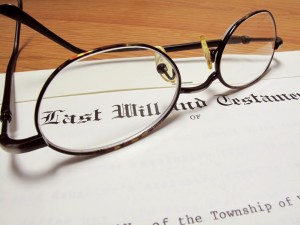 The death of a person is devastating, especially when that person is someone you love. A family needs to deal with its grief, yet the world moves forward and demands that estate and probate obligations be met and affairs finalized. If you are currently in a situation where you'll be dealing with the Pennsylvania state court system in relation to a probate or estate related matter, or if you think that you may be in this kind of situation in the near future, it is imperative that you hire one of our seasoned probate attorneys that knows the ins and outs of Pennsylvania probate law.
When someone passes away, everything that person owned becomes his or her estate. Probate law has to do with the handling of another person's estate, such as a family member or other loved one. These are the laws that make sure that the creditors are paid properly and that assets are distributed to the heirs. When you find yourself in a situation where you will be dealing with probate law, it is a good idea to be prepared on the process so that it does not become overwhelming. In general terms, the process of administering a decedent's estate involves collecting all assets, locating all creditors, paying all debts, paying all applicable taxes, and then distributing the remaining assets to the persons entitled to inherit under the decedent's Will, or where there is no Will, under the laws of intestacy.
While on one hand this may sound simple, probate law and the handling of estates is in fact a complex system, which presents you with multiple requirements and tasks to be preformed by the personal representative, an experienced attorney, and a tax consultant. For example, an estate including only a single house and single bank account that has been left to a single beneficiary will probably be a far easier and quicker process to deal with than an estate containing multiple houses that are located in various states that are left to multiple beneficiaries. This becomes especially difficult if an estate includes leaving assets to a minor. The process can become complex and confusing which is why it is important to seek assistance from an experienced probate attorney that can answer all of your questions and make the estate administration process go as smoothly as possible.
Contact one of our seasoned attorneys for a consultation today
If you are in need of assistance with probate estate administration call one of our experienced probate attorneys for a consultation today at 610-891-8806.
var _gaq = _gaq || [];
_gaq.push(['_setAccount', 'UA-33686248-1']);
_gaq.push(['_trackPageview']);
(function() {
var ga = document.createElement('script'); ga.type = 'text/javascript'; ga.async = true;
ga.src = ('https:' == document.location.protocol ? 'https://ssl' : 'http://www') + '.google-analytics.com/ga.js';
var s = document.getElementsByTagName('script')[0]; s.parentNode.insertBefore(ga, s);
})();