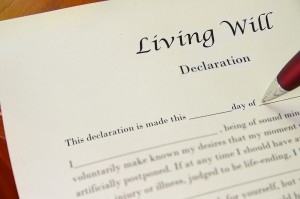 Living Will
Your living will, also called an advance directive, might be the most important estate planning document you ever make. Giving your family clear, written direction about your end-of-life wishes can spare them anguish and make sure you get the kind of care you want. With these documents, you can set out the kinds of treatment you want, or do not want, and name someone to make sure your wishes are honored.
Without guidance from you in these legal documents, family members and health care providers can easily become uncertain about treatment decisions. And when family members disagree about what course to follow, the consequences are sometimes rifts that are never resolved. Our attorneys at MMD&C utilize a personalized approach to your living will to make sure your intentions are clear.
Power of Attorney
The aging process is a unique experience from person to person. In some cases, you may face physical or mental incapacitation as you get older, or due to an unexpected injury or disease. Should any of these situations arise, you want to ensure that you are well taken care of by a person you trust. At MMD&C, we have successfully drafted powers of attorney documents for people for years. We will make sure that, if the time should come when you are incapacitated, you have someone of your choosing looking out for you and making important decisions on your behalf.
If you do not appoint someone to manage your finances and your health care should you become incapacitated, you risk the court appointing someone to take control over your financial affairs and health care decisions. With help from two basic documents, you can put those fears to rest. Every person's estate plan, regardless of wealth, should contain a health care power of attorney and a financial power of attorney.
Our attorneys ask compassionate questions and pay close attention to answers in order to generate powers of attorney that are as straightforward or as intricate as necessary to meet our clients' unique goals and clearly express their intentions.
Contact one of our seasoned attorneys for a consultation today
If you are interested in drafting an estate plan, including a living will and power of attorney, call one of our experienced estate planning attorneys for a consultation today at 610-891-8806.
var _gaq = _gaq || [];
_gaq.push(['_setAccount', 'UA-33686248-1']);
_gaq.push(['_trackPageview']);
(function() {
var ga = document.createElement('script'); ga.type = 'text/javascript'; ga.async = true;
ga.src = ('https:' == document.location.protocol ? 'https://ssl' : 'http://www') + '.google-analytics.com/ga.js';
var s = document.getElementsByTagName('script')[0]; s.parentNode.insertBefore(ga, s);
})();