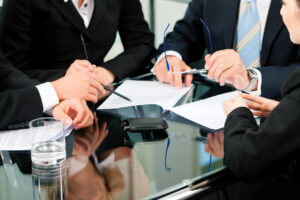 If you have problems with your construction project or real estate matters, it's important to know what tools you have available to you. Whether you are seeking legal assistance for arbitration, mediation, litigation, or any other real estate or construction-related matters, the skilled attorneys at Musi, Merkins, Daubenberger & Clark are the perfect fit for the job.
Ideally, any problem could be resolved without having to drag both parties into court. Settlement options, as well as arbitration and mediation, offer attractive alternatives to traditional litigation. These methods typically result in a faster and more cost-effective resolution than going to trial. Arbitration allows both parties to present evidence and make their case before an arbitrator, rather than a judge, who then considers each side before making a ruling. Although many forms of arbitration are binding, it is important to note that not all arbitrations are binding. Mediation, on the other hand, is more similar to a negotiation between the parties, with a neutral mediator acting as a third-party. While mediation may be a quicker and cheaper alternative, it is important to note that it is not binding. When the parties are unable to reach an agreement through mediation or arbitration, they can still seek to resolve their issues through litigation.
Building on years of experience handling construction law and real estate law cases, the attorneys at Musi, Merkins, Daubenberger & Clark have the ability to excel both inside and outside of the courtroom. Our team of attorneys are skilled negotiators who can assist you with your mediation and arbitration needs. We also have extensive experience litigating construction cases in Pennsylvania and New Jersey, as well as New York, Massachusetts, and Vermont. Our attorneys represented a subcontractor excavator against a general contractor in Westchester County Supreme Court, NY, where we obtained a unanimous jury verdict for the entire demand amount plus interest dating back to the date of nonpayment. We have also represented an electrical contractor in complex construction litigation matters in both state and federal courts in PA and NJ.
Skilled in all facets of construction and real estate litigation, MMD&C represents general contractors, subcontractors, developers, property owners, suppliers, etc., and we work together with our clients through every step of their project before, during, and after construction is completed.
At Musi, Merkins, Daubenberger & Clark, we understand the complexities of construction projects as well as the intricacies of construction law. This is also true for real estate transactions and disputes. Our attorneys have years of experience successfully litigating on behalf of our clients throughout the region, all while maintaining an exceptional level of attention to each client's individual needs. Whether you are seeking to resolve your construction or real estate dispute outside of the courtroom or through litigation, the attorneys at Musi, Merkins, Daubenberger & Clark are here to help. Contact us today for all of your real estate and construction law needs.