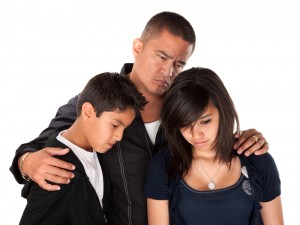 The loss of a loved one is always a very painful experience. That pain is only compounded when their death is unexpected and comes as the result of someone else's negligence or wrongful act. Although no amount of money can truly make up for the loss of a loved one, the attorneys at Musi, Merkins, Daubenberger & Clark are here to help. We understand the financial difficulties the untimely death of a loved one can leave behind, and that is why we have absolutely NO FEE unless we succeed in recovering damages on your behalf.
In a wrongful death case, the victim's family (including spouse, children, parents, grandparents, or legal guardians) may be eligible to pursue financial compensation for the victim's death if it was caused by someone else's negligence. Some of the common causes of wrongful death include car and truck accidents, drunk driving, motor vehicle defects, products liability, and medical malpractice. Types of compensation can include costs to cover medical bills, lost future earnings, pain and suffering, loss of consortium (companionship), and even punitive damages.
Wrongful death cases demand an exceptional level of attention to detail. You need an attorney who is just as skilled at handling the complexities of the law as they are capable of dealing with the insurance companies trying to deny your compensation. The attorneys at Musi, Merkins, Daubenberger & Clark know the law and will fight to make sure you receive the compensation you deserve. During these already difficult times, working with MMD&C can ease your burden, allowing you and your family the time to grieve the loss of a loved one. You can rest assured knowing that we have the experience and skills necessary to pursue your claim. We have affiliations with expert accident reconstructionists and private investigators, many of whom are retired police officers and FBI agents. These resources can be invaluable in determining the outcome of your case. In many instances, insurance companies will try to settle wrongful death claims before going to court. Our attorneys are skilled negotiators who will not accept a penny less than you deserve. If you are unhappy with the settlement offer, we are prepared to fight for you in court. With decades of experience successfully litigating cases throughout the region, it pays to have MMD&C on your side.
If you or someone you know has lost a loved one to a wrongful death, contact the attorneys at MMD&C today for a consultation, and let us get you the help you deserve. Pennsylvania law imposes strict time limitations on actions for wrongful death, so it is important to act quickly to protect your rights.
var _gaq = _gaq || [];
_gaq.push(['_setAccount', 'UA-33686248-1']);
_gaq.push(['_trackPageview']);
(function() {
var ga = document.createElement('script'); ga.type = 'text/javascript'; ga.async = true;
ga.src = ('https:' == document.location.protocol ? 'https://ssl' : 'http://www') + '.google-analytics.com/ga.js';
var s = document.getElementsByTagName('script')[0]; s.parentNode.insertBefore(ga, s);
})();