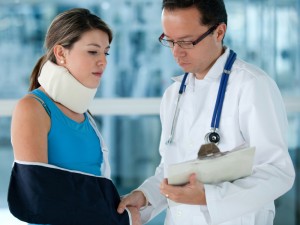 If you have suffered a personal injury, you may be eligible for financial compensation. Our attorneys at Musi, Merkins, Daubenberger & Clark can provide you with peace of mind knowing that we invest our financial resources and knowledge to prosecute your personal injury claims, and there is absolutely NO FEE unless we succeed in recovering damages on your behalf.  
The law requires any individual who wrongfully injures another person to make repayment to the injured party, to the extent that the damages can be determined. In personal injury cases, an individual is often harmed by things out of their own control, which can lead to physical, emotional, and financial difficulties. The purpose of personal injury compensation is not to reward the injured party or to punish the party that injured them, but rather it is to make the injured party feel whole again, as they did prior to their injury. Generally, an injured party should be compensated (1) for the money they have been deprived of and would have presumably received had they not been injured; and (2) for the suffering, inconvenience, and expense resulting from their injury. Recoverable damages from a personal injury claim may include reimbursement for medical bills, payment for time lost from work, future medical expenses and future lost wages, as well as physical and emotional pain and suffering. 
In many cases, when an individual is injured as a result of someone else's negligence, the insurance company fights to protect the at-fault party. These insurance companies are concerned with making profits, and paying out personal injury claims eats into those profits. The attorneys at Musi, Merkins, Daubenberger & Clark have decades of experience handling personal injury cases, fighting against insurance companies on behalf of our clients. We have the skills and knowledge required to navigate the often-complicated areas of personal injury law, and the experience necessary to secure the financial recovery you deserve.  
Whether you have suffered injury as a result of a car or truck accident, a slip and fall, premises liability, or have wrongful death and survival claims, the experienced personal injury attorneys at MMD&C will stop at nothing to secure the maximum recovery possible for your injury. Our attorneys will be by your side throughout the entirety of your case, always acting in your best interest. We provide honest and competent advice regarding the likelihood of your claim's success, how much compensation you should expect, and what type of recovery you are entitled to. 
Contact the experienced team of personal injury attorneys at MMD&C to schedule your free initial consultation today.