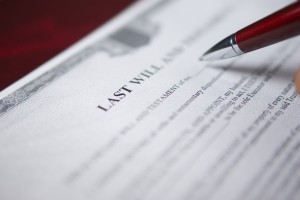 Professional and customized estate planning gives people a feeling of contentment because they know their wishes will be followed. Estate Planning is important, no matter the size of your estate. Through proper estate planning, you can ensure that your assets will go to your intended beneficiaries. You may also save money on taxes and court costs, prevent arguing amongst your heirs, and prevent financial confusion after your death. You may also be able to avoid probate in certain situations. In addition, you can protect your estate assets against your possible future mental or physical incapacity and the catastrophic costs of long-term medical and nursing care.
You may have heard the saying that if you do nothing else to take care of your legal affairs, you should at least write a will. If you die without a will, state law will determine who gets your property and a judge may decide who will raise your children, as it is legally unknown who you would have chosen. Writing such an important document can be overwhelming, but it does not need to be. Our attorneys at MMD&C have years of experience drafting wills that demonstrate a client's specific and unique intentions for the future.
Contact us to arrange a consultation with an experienced, attentive, and dedicated estate planning attorney at 610-891-8806.
When it comes to estate planning, our attorneys understand that no two individuals are alike. For this reason, here at MMD&C we make you feel comfortable sharing personal details of your life and concerns, so your estate plan does not fall short of your expectations and needs. We will take a personal approach and let you know the most sensible, up to date legal options available, as our attorneys are well-versed on the relevant law. All of your estate planning documents will be prepared by an attorney at our law firm to ensure compliance with state and federal laws.
The decisions involved in creating an estate plan are significant; you cannot afford to make a costly mistake. You will be at ease knowing that all of your estate planning requests have been met and all of the associated documents have been correctly executed. A practicing estate planning attorney is the only person who can appropriately guide you to ensure the tranquility that comes with a properly executed estate plan.
Contact one of our seasoned attorneys for a consultation today
If you are interested in drafting an estate plan call one of our experienced estate planning attorneys for a consultation today at 610-891-8806.
var _gaq = _gaq || [];
_gaq.push(['_setAccount', 'UA-33686248-1']);
_gaq.push(['_trackPageview']);
(function() {
var ga = document.createElement('script'); ga.type = 'text/javascript'; ga.async = true;
ga.src = ('https:' == document.location.protocol ? 'https://ssl' : 'http://www') + '.google-analytics.com/ga.js';
var s = document.getElementsByTagName('script')[0]; s.parentNode.insertBefore(ga, s);
})();